Case Study
Monster Energy Print Point of Sale
The Challenge
Monster Energy needed impactful point of sale to go into a range of retail environments, including wholesalers, to promote the Apex Legends campaign. The print production times need to be efficient and well-managed to meet deadlines.
Deliverables
Account Management
Cardboard Engineering
Print Production and Finishing
Distribution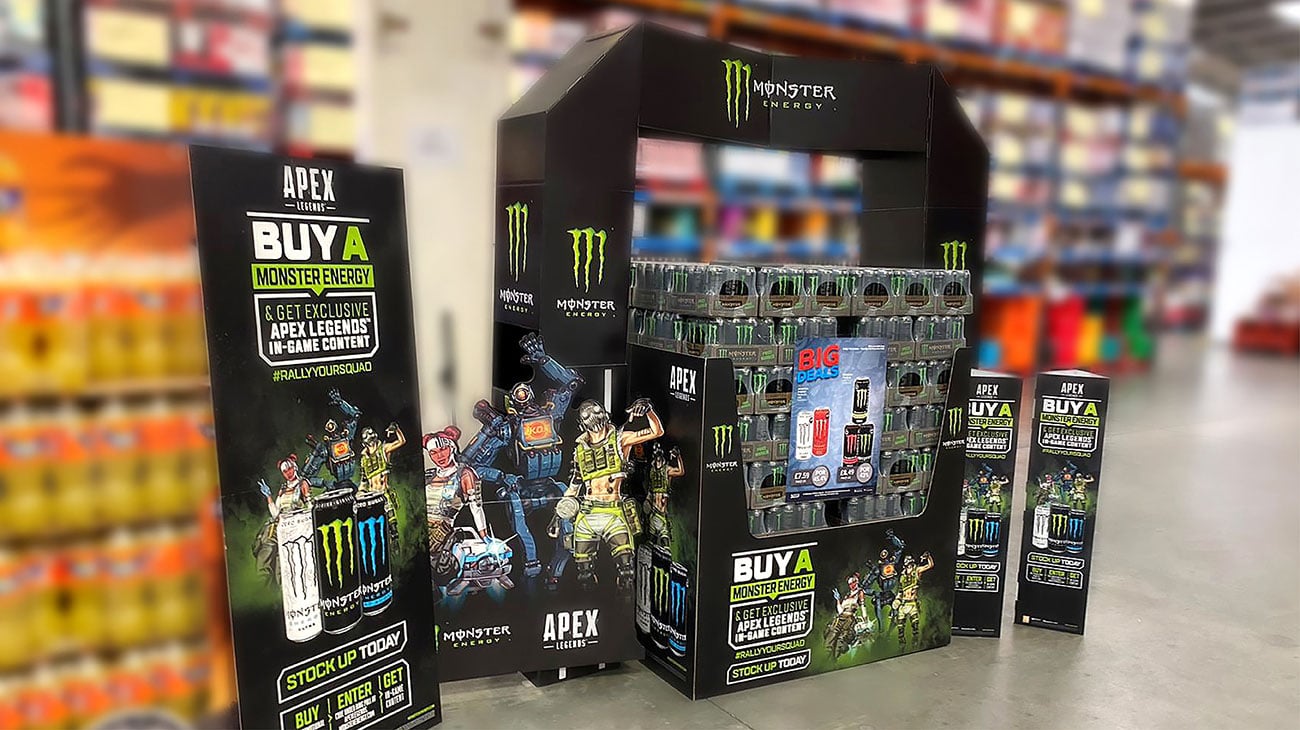 Our Solution
As long-term partners of Monster Energy, we have a full understanding of the brand's requirements and guidelines, and also those of the retailers that the units were going into. We made sure that Monster Energy could rely on our account-managed MauvePrint service and that all print was produced in the most cost-effective way. Our production team made sure all print was colour-matched and consistent between types of print and print process to make sure that it adhered to brand guidelines and standards. We printed a range of point of sale from archways to fins, standees, pallet wraps & bollard covers.
Monster Energy were able to rely on our existing library of standard and theatrical 2D and 3D point of sale shapes to make the whole process quicker and easier, resulting in increased speed to market. The whole campaign was fully account managed, including dealing with the logistics of delivering to multiple stores both in the UK and overseas.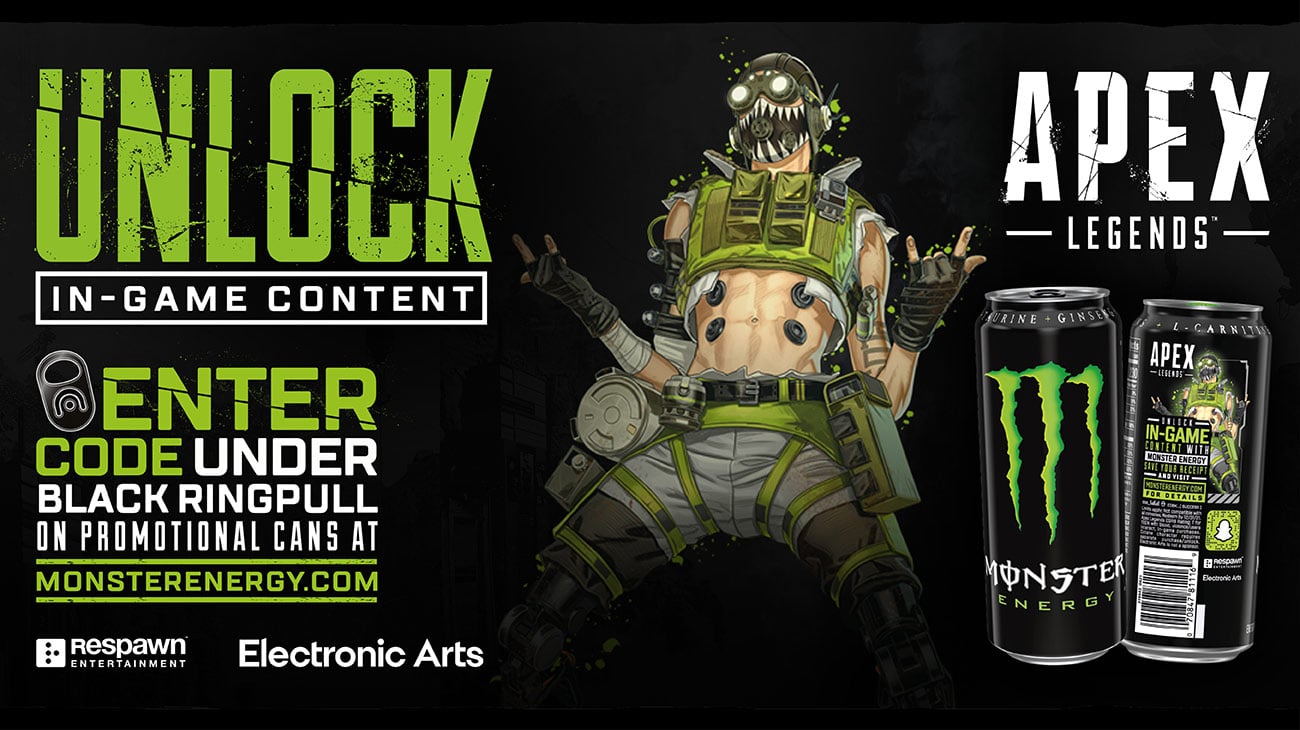 The Result
The large archway and all accompanying point of sale was designed to work well in the intended retail environments - wholesalers and supermarkets - and disrupt shoppers in store. The printed point of sale was successful in driving both brand and campaign awareness, and resulted in a positive return on investment, with the marketing materials effectively paying for themselves.
The cardboard point of sale displays were hard-wearing and built to last, using corrugated EB flute that is fully recyclable.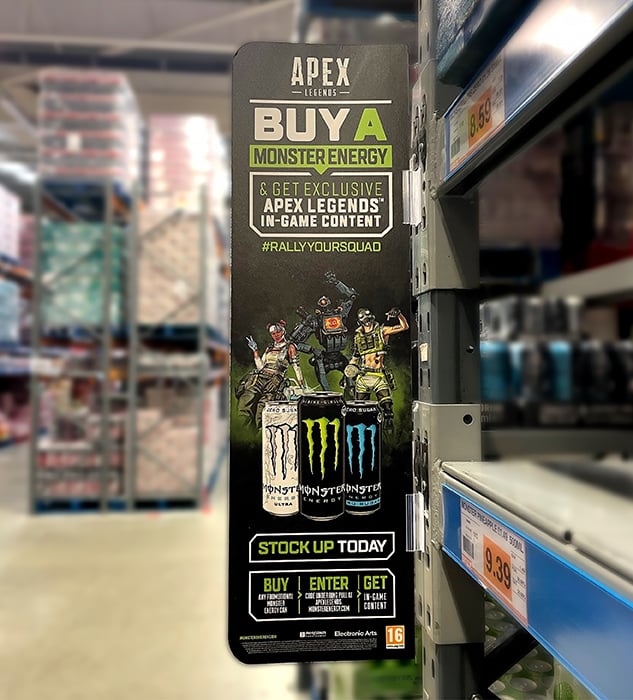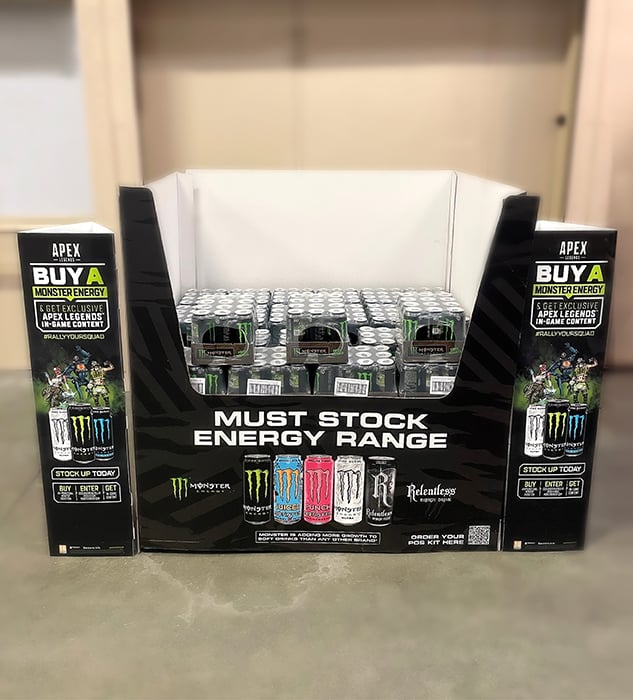 Get in contact with us to discuss your digital and print design projects