Case Study
In Store POS: 360° Cardboard FSDU
The Challenge
Monster Energy needed an unmissable 360-degree FSDU that could be shopped from any angle, no matter its position in store. It had to showcase the key messaging of the Juiced range, drive awareness of the on-pack promotion, and disrupt shoppers in a busy store environment. It was to be aimed primarily at convenience stores where speed and ease are vital, and be able to hold multipacks as well as single cans.
Deliverables
Creative Design
CAD Structural Design
Print
Distribution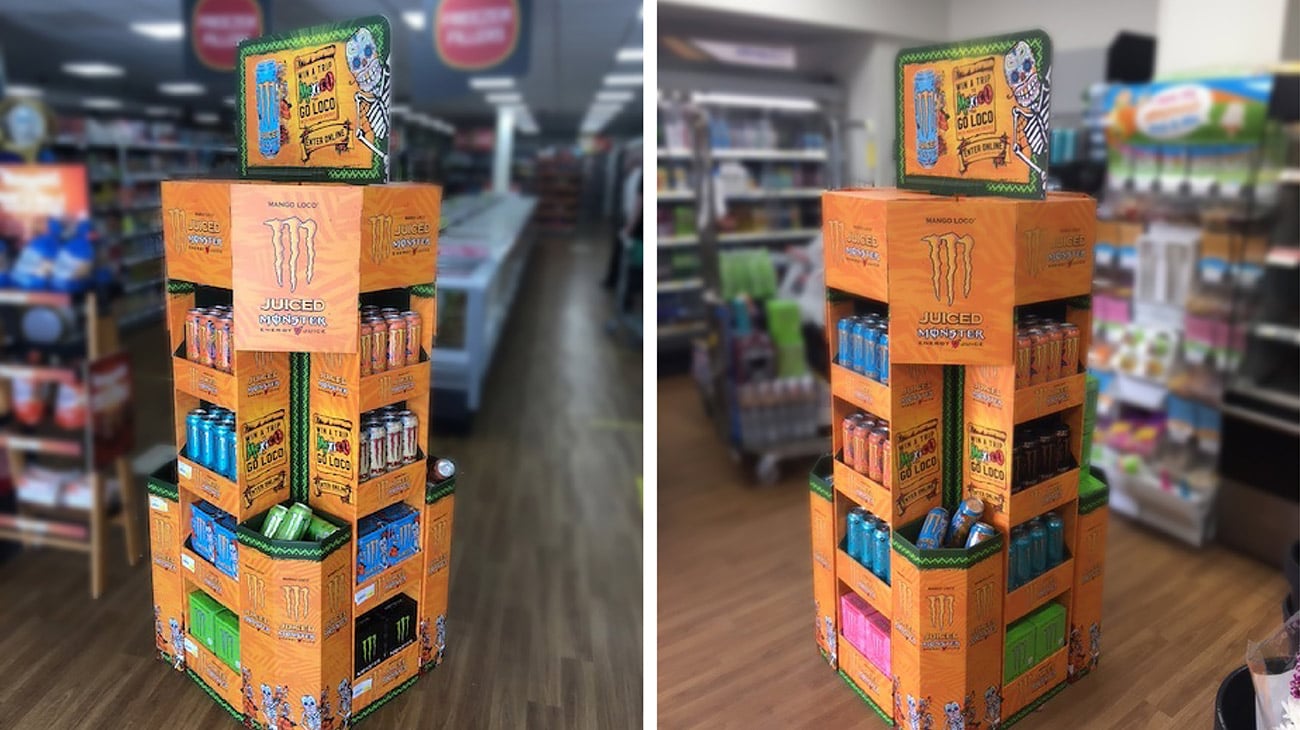 Our Solution
After working on a previous concept that was only shoppable from a limited number of sides, we worked with Monster Energy to create this 360-degree FSDU to be shoppable from any angle. The artwork had to be eyecatching, so our MauveCreative designers used the bright colour palette in the brand guidelines to artwork this showstopping design.
The MauvePrint team ensured that it was rigorously weight tested to hold the heavy products and ensured it was made from cardboard so that it'd be fully recyclable. The unit was delivered flat packed to stores along with assembly instructions for store staff to put up easily.
Don't just take our word for it
Hear from some of our customers about how we solve their challenges.
This is a great example of working together to get a solution that works for us and the retailer. This unit is on our POS menu and we have used it in many accounts and different environments.
The Result
The FSDU successfully increased sales of the Juiced range in these high footfall areas with the unit combining elements of both traditional FSDUs and dumpbins. Monster Energy continue to use the unit as it enables retailers to have multiple SKUs off fixture, offering choice to consumers as well as showcase and highlight new lines.
Get in touch to discuss your digital and print design projects